Bisley, Wagner & Tull in 'The Tower' this Summer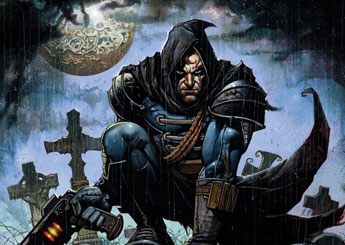 From Bleeding Cool via The Intense Art Of Simon Bisley:
"Matt Wagner is writing The Tower Chronicles with Simon Bisley doing full art for release next spring/summer, about a supernatural bounty hunter with a secret."
This will be published by Legendary Comics (publishers of Frank Miller's 'Holy Terror').
A little more scratching around reveals (slightly) more: From the Legendary website:
"A supernatural bounty hunter with a shrouded past. John Tower and his team of high-tech mercenaries are all that stand between us and the things that go "bump" in the night. Developed by Matt Wagner, the creator of GRENDEL and MAGE, and Thomas Tull – Executive Producer of 300 & The Dark Knight, with art by acclaimed 2000 AD & Lobo artist Simon Bisley, THE TOWER CHRONICLES will set a new standard in supernatural action/adventure."
A creative team with a fine pedigree, to be sure. Let's see what the Summer brings!
(You can read an interview with Bob Schrek at Newsarama which covers a little more on The Tower as well as Legendary's new Comics arm here)